We welcome all people who are friendly, courteous, committed, resourceful, valiant, and enthusiastic, and who wish to contribute to making the festival a community-oriented event which is convivial, festive, collaborative, and inclusive.
Engaging with FUDGE is:
Participating in the first North American festival dedicated to dance for young audiences
Meeting professionals hailing from the national and international dance scene, and exchanging with other enthusiasts
Making a contribution to the cultural life of Sherbrooke and the surrounding area
Working with a team that is (nothing less than) extraordinary
Attending one or more of the programmed performances (depending on your involvement)
Our needs are varied, and touch on different aspects of the organization of the event:
Greeting the artists
Signage for activities
Assuring a presence at the General Headquarters at the Centre des arts de la scène Jean-Besré
Responsibility for meals
Greeting the audience
Security
Introducing the perfromances and workshops
Sales booth for promotional material
Taking photos during activities
Putting up posters
Transporting the artists
All volunteers will receive a magnificent FUDGE FESTIVAL t-shirt!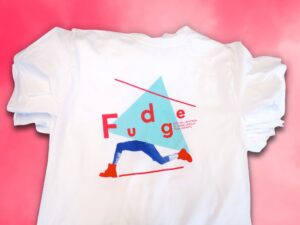 If you have a few hours, or a few days to offer us, please write!
[email protected]
*A meeting with those interested will be held the week of May 23rd.